We have always seen that not only the happenings in the society but also the festivals which are celebrated with great enthusiasm are reflected on the 70 mm cinema screen. The writer-director includes a song justifying the festivals that merge with the flow of the story. One of these songs was so popular that it would forever linger in the minds of music lovers. Such a song will be seen in the upcoming Marathi movie 'Aashray'. After the release of the first thrilling poster, the makers of 'Aashray' have now released the Holi song for the film.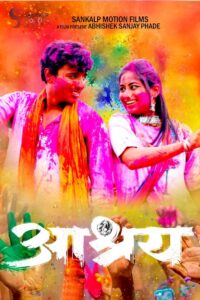 Presented by Sankalp Motion Films and produced by Abhishek Sanjay Phade, 'Aashray' is directed by Ramesh Popat Nanavare and Santosh Sahebrao Kapase. Since Holi is few days away, everyone is looking forward to Holi and Dhulivandana. The festival of Holi, which falls after the holi festival of Mahashivaratri, brings together the young and the old. A similar song will be seen in the movie 'Aashray'. The song 'Satrangi Hi Duniya Sari …' is written by Aarti Abhishek Phade and Aarti has also sung it with Anand Shinde. Composer Vishal Borulkar has done the work of giving melodious music to this song. The director says that the song, which was filmed on Shweta Pagar and Amey Barve, will play a very important role in the story. The duo has also stated that the song 'Satrangi Hi Duniya Saari …' is not included in 'Aashray' but there is a background behind this song.
The title 'Aashray' suggests that the film manages to capture the essence of the story. Accordingly, the director has tried to present the story of an orphaned little creature through this film. The answers to the questions of who gives shelter to this orphan soul, who becomes its support, who puts its wings of love on it, will be found in 'Aashray'. The entire team, including the producers-directors, has tried to give a perfect entertaining film in the form of 'Aashray' through introspective story, melodious lyrics, quality production values, stern acting and beautiful presentation. The film is written by Abhishek Sanjay Phade, while the screenplay and dialogues are by Dixit Sarvade. In this film, Shweta and Amay are paired with Nishigandha Wad, Sunil Godbole and Deepali Kulkarni. Cinematography is done by DOP Raju Deshmukh and Prathamesh Shirke, while compilation is done by Pradip Panchal. Apart from Anand Shinde and Aarti Phade, Rishikesh Ranade has also sung for the film. Background music is by Ajinkya Jain. VFX and DI Jayesh Malkapure, Production Controller Vinayak Dherange and costumes by Amrita Sawant Patil.