Actors Ali Merchant, Ashmita Jaggi and Harsha Chopda will be seen in EORTV's original series called 'I love us'. The trailer is out and is quite intriguing. It is a quirky and romantic love journey between the three lead actors. The series will be streaming live on EORTV- India's first LGBTQ focused platform from 18th March. 2022. The series is Directed by Deepak Pandey and produced by Falguni Shah (Dreamzz Images Studio).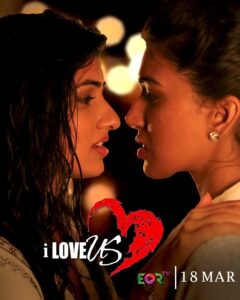 The story revolves around a same sex relationship between Shreya Rajput & Ananya Mitra, the two female leads and how Ashutosh Garewal's entry played by Ali Merchant in their life, stirs up their existing relationship. In this quirky, romantic love journey who will be the passenger and who will become the ultimate LOVE destination.
Deepak Pandey, Director of the series said, "Life is like a beautiful journey, where we meet two types of passengers, first are those who meet us only for a brief period. But they touch our lives so deeply that even after they leave, they are with us forever in our memories and second are those who not only take the journey with us, but become our destination. I love Us' is an attempt to showcase the various shades of love. Love brings up a gamut of emotions from agony to ecstasy. It's a beautiful tale that revolves around these three characters and how their relationships change with time."
Speaking about the show, lead actor Ali Merchant said, "This show has a very honest storyline and is extremely relevant in today's day and age. I have seen so many kinds of relationships around me and for this role I could easily draw references. The relationships drive the character arcs and our Director Deepak Sir handled every character beautifully. I'm sure audiences will get a very fresh story line, barely attempted on Indian screens."
Ashmita Jaggi, lead actor, added, "I Love Us is a story of complex relationship dynamics. Love in itself is the most easy and natural emotion to feel but relationships can become complex. This series explores the various shades of love and nuances in relationships. It was a very challenging character to bring to life, however once I sign up for a Character I see to it I live it to my utmost conviction, no matter what. My co actors and director Deepak ji were very supportive".
EORTV is a premium video streaming app that offers thousands of hours of premium, exclusive and original content. Users can view Web series, Music videos, LGBTQ originals and short videos. The app focuses on making content which caters to the careworn community in the society.
You can download the EORTV App on IOS and Google Play