A landslide occurred in Malin village of Ambegaon taluka of Pune district on 30th July 2014. The landslide hit early morning when residents were asleep. The mishap is believed to have caused by a cloud burst resulting in heavy rainfall. More than 150 people were killed in this tragic incident. Rain continued making rescue efforts more difficult. The real story of Malin mishap is now on celluloid 'Ek Hota Malin' releasing on 29 July 2022. A poster of the film has recently been launched on social media.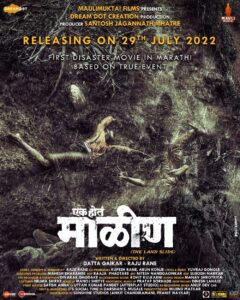 Maulimuktai Films presentation, the film Ek Hote Malin' (The Land Slide) is produced by Santosh Jagannath Mhatre of Dream Dot Creation and co-produced by Rupesh Rane and Arun Konje. The concept, story and screenplay of the film are by Raju Rane who has written the dialogues and directed with Datta Gaikar.
The film stars Abhijit Shwetchandra, Prashant Mohite, Ashwini Kasar, Siddhi Patne, Anil Nagarkar, Prashant Tapaswi, Ramchandra Dhumal and Deepjyoti Naik. Raaja Phadtare is the cinematographer, Yuvraj Gongle is the lyricist and music director, VFX is by Divakar Ghodake, costumes by Nilima Shirke, make-up by Manoj Shetye, prosthetic make-up by Pratap Borhade, editing by Subodh Narkar and Mahesh Bharambe is the executive producer.
Heavy rains caused severe damage to lives and property. An entire village had disappeared overnight. The film shows the mishap night which brings tears in the eyes. Nice narration, talented cast and excellent VFX are the strengths of this film. The story has been written after interacting with the villagers in Malin and getting information from them.
Highlight
The film Ek Hota Malin brings together talented actors Abhijit Shwetchandra and Prashant Mohite once again. The duo has worked together in their debut film TALEEM released on 5th August 2016. The sequel of this hit film is already in process.