Rajan Shahi, producer of hit shows like Anupamaa and Yeh Rishta Kya Kehlata Hai (Director's Kut Productions) celebrated his 50th birthday today, and his team members of Director's Kut Productions have kind words and wishes for him.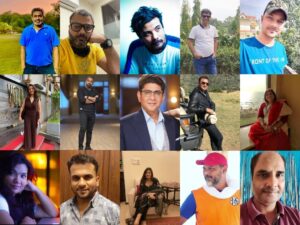 Ketaki Walawalkar (creative director of Anupamaa, Director's Kut Productions) – Happy 50th birthday to you Rajan Sir. It's been almost two years since I started working with you and I'd like to thank you for all the encouragement and constant support. Thank you for always pushing me to do better than better. Wishing you good health, more feathers in the cap and lots of true happiness in the coming years.
Raam Pandey (director) – Happy birthday to the wonderful person who inspires confidence to all. You're one of the most dedicated leaders I've met. You helped me grow both as a person and as a professional. I have to thank you for all of it. I have learned so much from you Sir. It's been an absolute pleasure working with a mentor like you. Looking forward to other fabulous years of work and fun times.
Mansi Manoj (jewellery designer) – Happy birthday Rajan Sir. Wish you the best in life. Stay blessed. Thank you so much.
Zama Habib (writer) – When I am down he is there to hold me, cajole me, motivate me. He calls me from USA and talks to me for hours to motivate me just because he felt I am wilting and might give up my upcoming show out of frustration. He literally waters me whenever he notices me withering away within. His passion for work is contagious. His compassion for people associated with him is admirable. Today happens to be his birthday. A reason for me too to celebrate the day. A very happy birthday Rajan ji. Have a super one. Stay blessed with all the happiness and success you deserve. And let me tell you, you are no longer just a producer to me. Our relationship is now beyond that. I can easily call you a friend. We share respect, love, and passion for quality work. We believe in each other and trust the most.
Nisha Bedi (costume designer/ stylist) – Wish you a very happy birthday. It's your heart of gold and the stardust smile which makes you the most fabulous man. Thank you is a very small word for everything you do for all of us. Keep shining.
Ranjeet Agarwal (business head) – Wish you a very happy birthday Rajan Ji. Wishing you all the happiness and good health and lots of wealth in life. It's really a dream come true for me to work with you. You are the most humble, nice, and down-to-earth person. Even after achieving so much success in your life, you have not changed at all and I wish you be of the same age always.
Vivek Jain (creative producer) – Rajan Sir is a true visionary, who can think beyond the horizon and can create epic stories. I feel so blessed to have him as my boss who has guided hundreds of us and take us hand in hand with him to the path of success. On his 50th birthday, I wish him to share his bliss with all of us as always.
Munisha Rajpal (writer) – Here's a little poem with a big wish to a large-hearted person on his 50th birthday.
Fifty is not old, it's actually gold because half a century has been lived
and half of it is yet to unfold. So here's to unfolding… love, life, work, success, joy and laughter in its purest form. Happy 50th Sir.
Abhay Jadhao (director of Anupamaa, Director's Kut Productions) – Working with you each day is truly a gift for all of us. Thank you for your support and leadership! Wish you a very happy birthday Sir, love you.
Abhishek Singh (casting director)- Happy birthday Rajan Sir. I wish you the very best that life has to offer. I also wish that you remain the awesome person you have always been to this organisation.
Sameer Gandhi (senior editor Director's Kut Productions) – A nice boss is hard to find and finding a great boss is even harder. I am privileged to find both in you. Happy birthday.
Aarif Shaikh (Line Producer) – Happiest birthday to dearest Rajan Shahi Sir on your 50th birthday. Mehnat or imaandaari se ye izzat kamayee hai or log samajhte hain ye shaan-o-shaukat humne virasat mein payee hain. We all are witnesses of your every single day of hardwork, passion, dedication and enthusiasm towards work. You are a man of principles, ethics, and values. A man who thinks for his team and their families first and always keeps himself last. I know him from his direction days, jo aadmi apne direction days mein ek nimbu bhi apne paise se mangaye, or producer bane to company ki core team ko ye kahe ke kisi ka bhi paise agar baaki ho or mere paas dene keliye na ho to bina pooche mera ghar bech dena lekin kisi ki bhi mehnat ka paisa usko mil jaye is baat ka khayal tum logon ko rakhna hai, bas mujhe bata dena sign kahan karna hai, he becomes zero for his every projects as if this is his first project in this industry, countless incidents we all know. Sir special thanks to you on your birthday, for every small things you did for your team, worker, technicians, talents not only for DKP family but outsiders too.
Safina (YRKKH creative) – Many happy returns of the day Sir. There are no words to express. As a leader you have looked after us and guided us. Thank you for leading the team and making our workplace an awesome place to be in.
Bhavna Vyas (screenplay writer YRKKH and Anupamaa) – Rajan Shahi Sir is a true king jo sirf rule nahi karte. Apni poori team ko sath leke aage badhte hain. Professionally hi nahi personally bhi. Chahe bday pe wish karna ho ya beemari mein tabyat poochana. He is always there for each and every member of his team. No matter what time you call him. He will always receive your call or reply to your texts no matter how busy he is. It's been almost 11 years I have been working with him. He has always been there for me professionally and personally. I wish him all the happiness and will continue to do my job in the best possible way as a mark of respect and support for him. Happy birthday Sir! #KingKaBday #kingturns50.
Kunal Bisen (DI colourist and online editor) – We are fortunate to be able to work with a great boss like you. Happy birthday to the most cordial boss.
Rajendra Deora and Ritu Deora (costume designers) – Wish you a very happy and healthy birthday Rajan Sir. You are an example of a good human being. You never hesitate to appreciate good work of your team. You are most humble and keep your words. You are a person who grows along with dedicated loyal team otherwise in our industry, people move ahead and keep changing teams.
Nikhil Bhatia (art director) – On this special day, I would like to express how lucky we are to have you as a mentor. You have been our guardian angel and I wish you always bless us like you do. Wish you many happy returns of the day. You are one of a kind Sir. I am lucky to have you as a mentor. Thank you, lots of love.
Garima Dimri (Sr creative director of YRKKH)- A very very happy birthday sir. Thank you for all that you do for everyone. Thank you for always supporting good intentions and hard work, for the passion, integrity, and immense faith you show in your team. Thank you for always being there and inspiring each one of us. Like I always say- You are the wind beneath our wings! You are truly fabulous at 50!
Romesh Kalra ( series director of Anupamaa and YRKKH, Director's Kut Productions)- I wish Rajan Ji a very Happy 50th Birthday. Wish you a very very Happy Birthday. You have reached half century and I wish that you always stay happy and keep smiling. There is so much to learn from you that I cannot express that in words. You have a very soft nature and handle everybody so nicely and give so much love. It's your good nature that because of that your team has always been there with you. We love you! God bless you with all the happiness, peace and prosperity