Aarambhh M Singh is a director working prominently in Hindi Entertainment Industry, who marks his directorial debut with Hungama Play launch web show "Damaged" which was among top 5 thriller show of 2018 along with Sacred Games. Aarambh had recently posted about his upcoming project the second season of Jamai 2.0 trailer. Aarambh who always surprises with his creativity and hard work will treat us this month with Jamai Raja 2.0 which has created a huge buzz across the internet after the trailer launched.
Which treated all the fans with a glimpse of how the second season of Jamai 2.0 will be different from the first installment, and now, the makers of the series have finally released the trailer. After watching the trailer, all the fans & Bollywood took to social media to express just how much they loved the trailer & the way Aarambhh portrayed it on screen. All the fans and celebrities alike are all praises for its fast paced narrative and engaging storyline that is much more than just romance between Ravi and Nia in the trailer.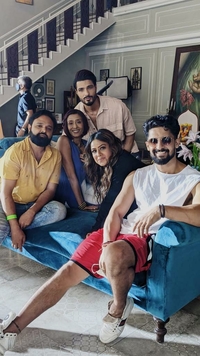 The second season of the show which is directed by Aarambhh M singh is underway and premieres on 26th February with a bigger plot twist and a more glamorous look. The show is produced by Ashwini Yardi's Viniyard Films' Jamai 2.0 Season 2 will be streaming on ZEE5 starting 26th February 2021.
After getting such great response for the trailer & and the way the cast brought their character on screen, Aarambhh says, "It had been a awesome journey doing second season of Jamai 2.0 with seasoned actors like Achint Kaur, Ravi Dubey and Nia sharma. It's fascinating to direct actors who can take the scene to another level with their performance."