From laughing together to sharing their sorrows with each other, the set of Kabhi Kabhie Ittefaq Sey is no ordinary workplace, say actress Delnaaz Irani. The show recently completed 50 episodes and the actress couldn't be happier!
"To be very honest, it's a great feeling to be on the show Kabhi Kabhie Ittefaq Sey. It's lovely to be on a show where, not only on-screen but off-screen also, it's like one big happy family. We have all gone through a lot of emotions during emotional scenes. We have been there like one happy family and have been together for these happy 50 episodes. It's a great feeling and I hope people love us like the way we love performing for them and I hope we complete 500 episodes soon!" she says.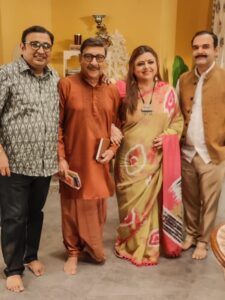 She adds, "It's superb to be on the sets of KKIS. It's a lovely team, lovely production house, loving cast and crew. We share our happiness and sorrows.  I feel blessed and happy."
With the show, Delnaaz Irani is once again working with Cockcrow and Shaika Entertainment, after her small stint in Chhoti Sarrdaarni. She credits them for helping her break her image by offering her a non-comical role in the latest project. The actress is the comedy queen of the entertainment industry and excels in the genre, but the actor in her always wanted to try different things.
Kabhi Kabhie Ittefaq Sey is a remake of a very popular show called Khorkuto, which is in Bengali, and there is another show which has already been made in Marathi. "Both the shows are doing very well and what I liked about the whole thing's first, I have already worked with the production house. Secondly, I wanted to do TV. After a long time I am coming back to TV. Also, I wanted to do a good show which was not only comedy," she said.