A sip of steaming hot coffee and its extraordinary aroma brightens a person's day. Coffee has its own romantic flair. Along with your beloved, the one thing you feel like having is 'Coffee'. The dark brown colour and slightly bitter taste becomes the 'weak point' of many. Siddharth Chandekar, Kashyap Parulekar and Spruha Joshi bring you one such cup of 'Coffee' on 14th January.
Tanvi Film presents Marathi film coffee is directed by Nitin Kamble, and produced by Kailash Sorari and Vimla Sorari. Each one experiences love in different ways. We will get to see some similar bittersweet stories in the movie 'Coffee'. Recently attractive posters of the movie were published.
The story and screenplay are by Macchindra Bugade, dialogues are by Macchindra Bugade and Nitin Kamble. Editing is by Rahul Bhtankar and cinematography is by I. Giridharan. The lyrics are by Ashok Bagve and Nitin Kamble. Music is by Trupti Chavan and Art direction by Harish Aair Executive producer is Sanjay Kamble.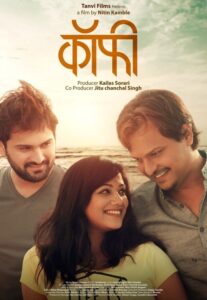 COFFEE is story of Ranjit Rajwade (Kashyap Parulekar), his wife Renuka (Spruha Joshi) and Rohit Sarpotdar (Siddharth Chandekar). Renuka is an Interior Designer and for last two months she is in Goa busy, with Interior designing work of a Hotel in Goa. This hotel is owned by Mr. Ajit Sarpotdar (Mohan Joshi), one of those business tycoon of Goa. There Renuka met Rohit Ajit Sarpotdar for work purpose. Rohit was a complete package of Awesome personality, good looks and an amazing individual..!! Renuka falls for Rohit, so does Rohit..!!
After listening the complete story Ranjit's heart breaks down as his wife.. his love.. Had fallen for some other man.. i.e Rohit..!! And she is requesting Ranjit to allow her to meet Rohit for one last time and spend the night together, however Ranjit gets convinced and he sends Renuka at Rohit's place for one night..!! Finally, Renuka meets Rohit, but till then she realizes that Ranjit's love for her is immortal and also the sacrifice which Ranjit has made no Man will ever do..!! She explains Rohit to forget everything and move on and returns to Ranjit as pure as she was before..!!