Everyone in Maharashtra is very proud of the work and ideology of Chhatrapati Shivaji Maharaj, the adored deity of Maharashtra. Chhatrapati Shivaji Maharaj, whose strategy is still studied in the international level strategy course, has become immortal in the hearts of Marathi people. In the upcoming social Marathi film 'Faas', the song that will sing the praises of Shivaraya's prowess will also make the fans proud.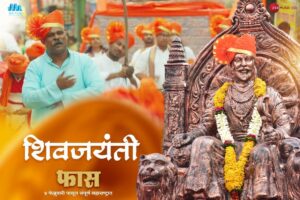 Naresh Patil, Pallavi Palkar, Dayanand Avrade, Basavraj Patil, Anil Patil, Vaishali Paddewad have co-produced 'Faas' which is presented by Maa Entertainment and produced by Maaheshwari Patil Chakurkar, sheds light on the issue of farmers. A very important song from 'Faas' has just been released. This song has been included in 'Faas' on the occasion of Shiva Jayanti. This song which starts by saying 'Ji Ji Ra Ji Ji …' is describing the birth of Chhatrapati Shivaji Maharaj. The song is written by lyricist Amol Deshmukh and composer Alan K. P. and has been recorded by singers Avdhoot Gupte & Sheikh Nishant. Listening to the title of this song, 'Shivnerivar Shivshakticha Tej Janmala Aaj…' is memorable. In this song, Maharaj's Saffron flag is seen fluttering by Doula, but the beautiful idol of Shivaraya also attracts attention. This song has been filmed on prominent artist Kamlesh Sawant. At the beginning of the song, National Award winning actor Upendra Limaye also appears in a khaki uniform, then the song starts. This song of Chhatrapati Shivaji Maharaj has been filmed and recorded to the sound of dhol. For this, dhol-tasha troupe has been included along with many junior artists. Disciplined drumming and rhythmic dancing can be seen in this song. There is also an authentic Marathi lezim dance with a pair of drums and flutes. Apart from the adventure sports like fencing and dandapatta, also fugadi is seen which is the identity of Maharashtra. Overall, this song is coming at an important moment in the story and it will arouse curiosity about what happens after that.
Avinash Kolte has directed 'Faas'. Upendra Limaye, Sayaji Shinde, Kamlesh Sawant, Pallavi Palkar, Ganesh Chandanshive, Namdev Patil, Nilesh Bade, Dnyanesh Undagavkar, Umesh Rajhans, Sharad Kakade, Ishwar More, Pawan Vaidya, Vinay Joshi, Deva Pandey, Pooja Tayde, Tejaswini, Madhuri Bharti and Shrutika Londhe are the cast. The story and dialogues of this film have been done by Maaheshwari Patil Chakurkar, while the screenplay has also been done by the director Avinash Kolte. 'Faas', which has garnered more than 130 awards from critics and connoisseurs all over the world, will be released in cinemas on February 4, 2022. The film will give a new perspective on farmers and their way of life. The story of the increasing number of farmers' suicides, the imbalance of nature and the government's policy on farmers and their families will be seen in 'Faas'. In addition to Cannes, Japan and Paris, as well as in important cities like Rajasthan and Noida, 'Faas' has been highly praised. Ramani Ranjan Das is the cinematographer of the film, while Apoorva Motiwale and Ashish Mhatre are the editors. Art direction has been handled by Santosh Samudre.