Big Bang Music drops the music video of Kinni Kinni Vaari. Created by UpsideDown, ICONYK & Raashi Sood, the song represents the voice of every resilient and powerful woman.
An ode to all the fierce women who may go through heartbreaks at multiple instances, the video embodies breaking the mould and saying, "Kinni Kinni Vaari?", conveying 'heart breaks are universal but we rise above it". The music video sees some powerful talent including Krishna Shroff AKA Kishu, Jannat Zubair, Jamie Lever, Nagma Mirajkar, Raj Shokher and Tanvi Geetha Ravishankar, grooving to the beats of brother duo UpsideDown and ICONYK as they caption it #NotYourBabe. Redefining the essence of self-expression for women and showcasing a larger message of encouraging women to come out of heartbreaks stronger and take on the world, the music video streams on Big Bang Music's YouTube channel.
Talking about the song, Raashi Sood said, "With Kinni Kinni Vaari, I got a chance to express one aspect of how women feel about ups and downs in relationships. UpsideDown, ICONYK and Diljot supported me beautifully in bringing this emotion forward as we worked together from different locations in the lockdown. Quite a different experience I must say!"
Krishna Shroff added, "I honestly couldn't have thought of a better concept to be a part of for my music video debut than this one. It was an absolute pleasure working with the entire Big Bang Team and coming together with 5 other bad ass ladies to showcase strength in such a unique and fun way through this absolutely fire track!"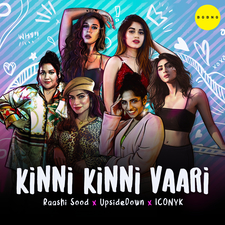 Sharing her experience on being a part of the music video, Jannat Zubair said, "It was amazing to shoot for Kinni Kinni Vaari. I absolutely loved the song when I first listened to it and the video is a total justice to the song. I'm sure people will love it because it's unlike what I've done before. It's very new and the vibe is really different. Had fun shooting it".
I'm in awe of what these lovely ladies were able to accomplish in these trying times. I hope you guys like the video as much as I do" added UpsideDown.
"This song came as a ray of sunshine in our sedentary covid lifestyles. When Raashi sent over the vocal idea, it instantly knew fit our vibe and we could picture a liberation of emotions. It took about 2-3 months of ideation to "perfect" it and once we were done, we knew we had something solid and something that the world needed to hear because I feel that at this point everyone relates to the song as we all need positive vibrations around us to tackle what we're going through. For me; the video reinstates my faith in humanity. Women need to be celebrated every day Period," said ICONYK.