BOYZ series has entertained everyone a lot. The trio of Dhairya, Dhungya and Kabir got a lot of love from the audience. After BOYZ and BOYZ 2 became block buster at the box office, the audience is eagerly waiting to see what new sequel BOYZ 3 will bring. Recently, the trailer of this film has been released in the presence of the entire team of BOYZ 3. Watching the trailer of the movie BOYZ 3, we got a glimpse of the journey of this trio and Vidula.
BOYZ 3 is the journey of the three friends towards the South India. It will be revealed only after watching the film that where the twist called Vidula in their journey will take these three. The film with excellent performances by Sumant Shinde, Partha Bhalerao, Prateek Lad along with debutant Vidula Choughule is releasing on September 16.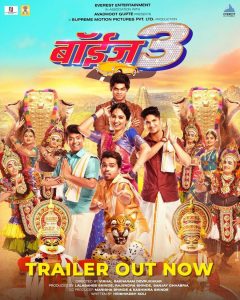 The song 'Lagnalu 2.o' is already super hit making everyone to groove. Friends are always with us whether it is putting each other in trouble or helping them out of the same trouble. We will see the definition of friendship in a new perspective in this film. Watching the trailer, it seems that the friendship between Dhairya, Dhungya and Kabir will be really fun.
About this trailer, music director Avadhoot Gupte said, "Watching the trailer of the movie BOYZ 3, it is overwhelming to see the increasing interest of the audience for this movie. The team has worked very hard. I am sure that the movie will live up to the expectations of the audience."
Director Vishal Sakharam Devrukhkar said, "Looking at the stormy response of BOYZ  and BOYZ 2, we are bringing BOYZ 3 this year as an addition to the entertainment. The trailer of this film is released now and all the actors have played their roles well. The film will release on 16 September and hope to be loved and blessed by all audiences."
Supreme Motion Pictures Pvt. Production, Everest Entertainment in association with Avdhoot Gupte presentation BOYZ 3 is directed by Vishal Sakharam Devrukhkar and produced by Lalasaheb Shinde, Rajendra Shinde, Sanjay Chhabria, co-produced by Manisha Shinde and Kashmira Shinde. The film is written by Hrishikesh Koli. BOYZ 3 is releasing in theaters on 16 September 2022.