Fashion Designer and stylist Suman Guha recently released his latest collection in a contemporary photoshoot.
Suman has worked with the best photographers of our country. He has done 400 + runway shows and fashion shows all over the globe with platforms like Bombay Times, Lakme Fashion Week and many more. He also got a nomination for National award. He has over 38 movies to his credit and worked with the top directors of the Indian Film Industry.
In a candid interview with Zalak Shah, Suman tells us about his latest venture and his future dreams of showcasing at the Milan Fashion Week.
Costume tailored by Raj, Costume assistance by Shabbir and Hair and makeup by Kadambari.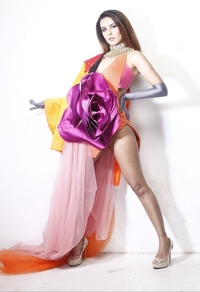 First things first, tell us about your collection a bit.
Actually, more than a collection, I would say it's about current trends of Bollywood changing into high fashion.
What's your inspiration behind it?
See, there are a lot of outfits you can't wear shown in typical Bollywood films, there's a particular trend followed by the Bollywood industry. But the masses can't wear such high-fashion designs shown in Bollywood all the time. On the other hand, when you see Hollywood movies or international movies, they always wear such clothes that attract. My intention is to change this concept and to make this easy; I want to popularize Bollywood outfits. Women usually wear typical outfits which are regular with the masses.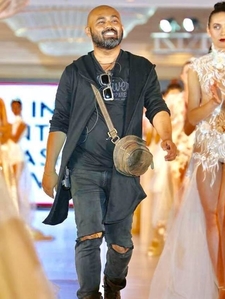 How long have you been working on this concept?
I have always tried new things. I started working on this concept after watching an amazing collection at Milan Fashion Week about a fusion of winter wear. I thought why not try Indian lehengas with winter wear. Whenever you go to a winter wedding, people do wear Indian outfits but not paired with winter wear. It's never showcased though. This is precisely why I wanted to try this, Indian outfits with fur.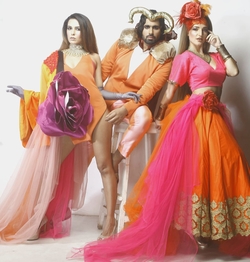 What has been your fondest memory while making this collection?
Sometimes while making designer sarees, we don't always think if it's economical. Whatever we think or visualize, should be economical. If I think about something made with bird feathers, it's not practically okay. It's criminal to use bird feathers or ostrich feathers. Fur is artificial and timeless. But previously we used to use leopard prints, deer horns, bird feathers which is not right. This is why I thought of a practical and economical way instead of an unethical one. The idea is to be economically viable in the market.
How has the lockdown worked or not worked in your favour?
So many new ideas have come to mind but there's also an obstacle of not being able to go out, execute them. I think people should use this time that they can't otherwise get with their daily pre-lockdown routines. For me, it was a bit hectic but it was okay if you think about using it productively. I took this time positively and worked on a lot of ideas, some of which got executed and some which didn't. I couldn't do this in my previously hectic shoot schedules. I got a lot of time for it due to the lockdown.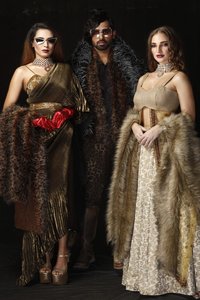 Describe your collection in three words.
Stylish. Colourful. Close to Nature.
Which Bollywood character do you think would suit your collection the most?
Kangana Ranaut's character from Krrish 2. Her character was a bit alien-y and wore some clothes like my collection. Her costumes were very unusual and not popular in the market. My collection is very applicable to her character.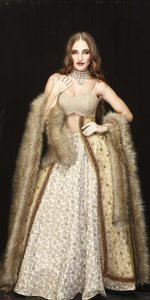 Do you think having virtual fashion shows is a viable option?
Depends on the audience. The audience should be up-market for it. If you don't up-market your taste in fashion and culture, there will be no growth. If you see Titanic, the costumes were so particular and very well done. Here as well, there are a lot of high-budget movies, but not ready to experiment with looks, outfits and colours, for reasons unknown. Now-a-days, some directors have started doing it. Bollywood movies have very less budgeted costume departments; they're not given much importance. Only a few directors emphasize on the looks of the characters.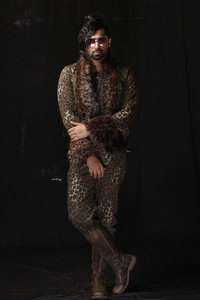 Can you give us a hint on your future collaborations?
I can't say about the future now. But I'm always working towards walking at the Milan Fashion Week. No Indian fashion designers come in the top search results on Google in that sense. There are international brands like Elie Saab, Versace, Dolce & Gabbana on the search results. This is because the contribution of Indian fashion designers is less in comparison. I want to showcase an unusual collection with a different theme so we come in the limelight too. That is my dream – when you Google Milan Fashion Week, you should be able to see Indian names in the search results.