Planet Marathi OTT always brings entertainment to the audience. Various entertainment options like movies, web series and musical concerts are available to the audience on the platform. Here the audience also gets to watch short films of the best subjects. Planet Marathi OTT has showcased high quality and multiple award winning short films to the audience and the audience has enjoyed these short films.
Now a mysterious short film titled 'Bhay: The Untold Villain of Life' with social message has been released on Planet Marathi OTT. This is a short film about the turning point in the life of a drug addict. Now audience will know how this young man comes out of his addiction for drugs, only after watching the short film.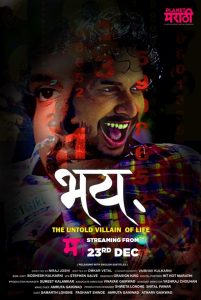 Says Akshay Bardapurkar, Head, Founder, Planet Marathi, "We strive to bring all kinds of content to the audience. Short films are a part of it. Our main objective is to present the best short stories to the audience, get them the right platform. Short film with a social message 'Bhay: The Untold Villain of Life' we have brought to the audience. Even a blow is enough to get out of something bad. Although the subject of the short film is general, the audience will definitely like the presentation of the story.
Presented by Parabig Films, the short film is directed by Neeraj Joshi, with story, screenplay and dialogues by Omkar Vetal. It stars Samarth Londhe, Pashant Shinde, Amruta Gaikwad and Atharv Gaikwad. The cinematography is by Vaibhav Kulkarni, BGM and Editing by Siddhesh Kulkarni, VFX by Stephen Salve, Graphics by Grasign King. Sumeet Kalamkar is production manager, associate director Vinayak Gaikwad, assistant director Yashraj Chouhan, make-over Amruta Gaikwad along with Shweta Londhe and Shital Pawar as production designer.
'Bhay: The Untold Villain of Life' is streaming on Planet Marathi OTT from 23 December 2022 with English subtitles.