Bhausaheb Shinde who had made his bow in films with a National Award winning film is now all set to make a splash once again. After appearing main lead in the much talked about "Khwada" and following it up with a noticeable role in the film "Baban", Bhausaheb Shinde has now made an announcement regarding his next film "Raundal" on the auspicious occasion of Gudi Padwa with the unveiling of the poster in the social media.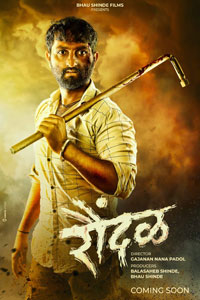 The USP of the film "Raundal" is that Bhausaheb Shinde himself is all set to produce the film along with Balasaheb Shinde under his banner Bhau Shinde Films and has also cast himself in the main lead in the film. You can see Bhausaheb with a severely injured face, with a beard and a blood soaked tyre tommy in the poster of "Raundal" in white checks shirt, a kada in his left hand, driving home the signal that you are going to see an action packed motion picture as a result of which you can be sure that Bhausaheb Shinde is all set to once again portray a different role. Curiosity has now been whipped up as to what kind of a character is Bhausaheb Shinde all set to portray with a rowdy look in "Raundal".
All the details about the rest of the star cast of the film have not yet been divulged as of now but Gajanan Padol is going to direct the film. Bhausaheb Shinde had shot to fame with his debut itself and earned not only box office acclaim but also the appreciation of all the critics with his extraordinary performance acting as the son of the soil in a Marathi film, he has earned a lot of accolades from various International film festivals till date. His journey from being an unknown entity with no background in acting to being an actor of repute is bound to inspire many a new actor in the film industry. The shooting of "Raundal" is all set to start very soon and there is no doubt at all that if there is a strong desire and a will to aim big, there is no work that is difficult and also nothing that one cannot achieve. Bhausaheb Shinde will also prove this with his role in the film "Raundal".