ZEE5, the largest OTT creator of Original content in the country recently announced 'Bhalla Calling Bhalla', a show shot entirely online! The trailer of the show is out now and gives you a sneak peek into the Bhalla family, while you laugh away!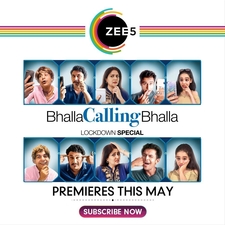 The trailer gives a glimpse of the Bhalla family and each of its members for the first time since the poster released. It opens with Mr. Bhalla (Businessman. Kavi. Husband) and his son Sahil (Actor. Chef. Mumma's Boy) talking about what they want / expect from life. You can then see Mrs. Bhalla (Mother. Happy. Ladies Club President) speaking to her daughter who insists on calling her by her new name 'Arundhati' (Rebel. Arundhati. Angry), a glimpse of Gogi (Yogi. Zen. Mischievous) and finally the time when the lockdown news was announced and the reactions from the respective family members via a zoom call. The video closes with Gogi summing up the Bhalla family for us and advices to take a deep breath saying, "I hope you are not positive, I mean, Corona positive."
The 12 episode show is a lockdown special series shot from the safety of the actors' homes, with each episode around the duration of 7-8 mins. The lockdown has made the family realize the need to be with each other and that they need Lovely Bhalla to tide them through this crisis as they are all stuck in different parts of the country.
The most unique thing about Bhalla calling Bhalla is that it is a show is completely being conceptualized, written, shot, edited and is presented to the audience during a lockdown. There was no set, no actors met each other.
Starring Lubna Salim as Mrs. Lovely Bhalla, Rajesh Kumar as Mr. Bhalla, Leenesh Matoo as Sahil Bhalla (son), Gracy Goswami as Lisa aka Arundhati Bhalla (daughter) and Gaurav Gera as Gaurav Singh (Mrs. Bhalla's brother)
The show premieres on 20th May 2020 exclusively on ZEE5.