The Hip-hop scene in India took a boom and a revolution in the past few years. While rappers from every street came out, the art was noticed among the people. Hip-hop which comprises of lot things includes rap music, beat boxing, graffiti and so was getting its highlight and attention. The movie Gully Boy became a catalyst to the Hip-hop movement.
While the film got the hip-hop artists under limelight, the two boys from Nalasopara had their own spotlight. The Vice Indian beat box champion & Vice Indian Tag Team Champion Beat Raw and D- Cypher made their music reach from their mouth to the hearts of many music listeners in the form of beat boxing. Representing Bombay Lokal, a hip-hop Community the two ace beat boxers bring their first ever individual track 'Aamchi Mumbai'.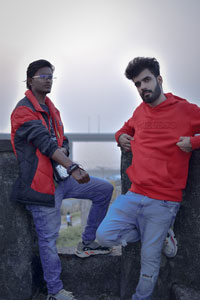 The name itself gives a wholistic meaning that the song talks about Mumbai, a Mumbai which belongs to everyone who accepts it as their own. This song is composed by Daniel Georgewho recently bagged the Filmfare award for Ayushmann Khuranna's starrer Andhandhun.
The song is released on the YouTube channel under the Eros now banner. The song is a revolution in terms of its music as it comprises of only beat which is being produced in the form of Beat boxing. This is the first ever time that both will also be featured in the entire song.
When spoken to Roshan Ghamre aka Beatraw on the music he said, "Aamchi Mumbai is a song that has the emotions of Mumbai. The sounds from the Mahakali Vadapav to the sounds of vendors inside the train, it has everything. A true Mumbaikar will connect bits and pieces to the song. Me and D- Cypher have always grown together in terms of producing music and being on the bigger stage. This again is a big moment for both of us."
He also added, "This is even more special for us as we got to work for a bigger brand as of Eros Now Music. The song is also produced by the legendary Daniel George who's worked in the movie Andhandhun which has received lot of accolades in the recent times. It was truly a great experience to be a part of this song. I believe and hope that audience will shower their love and support to us."
Truly, the young lads have something special to offer to their audience. If you haven't listened to this dope track. Click on the link here –