Balraj Syal's new song Yakeen is out. The actor-host-comedian is enjoying all the positive feedback he has been receiving around it. This song is closest to his heart, and there is a reason behind why it is. "The most special thing about the song Yakeen for me is that it is written by me, and sung by my wife Deepti [Tuli] from our own production. Our last song, mention the name, was also sung by her. She has loved this song from day one. When I started writing it, she had told me that she wants to sing it and we planned things accordingly," Balraj Syal shares.
Yakeen is a romantic sad song in Punjabi that features Kunwar Amar and Deepti. The music has been composed by Oye Kunaal. It narrates the story of a boy and girl who have been childhood sweethearts.
"Kunwar and Deepti's chemistry is very amazing in the whole song. We wanted a good personality and dancer for this number. That is when Kunwar came to my mind and he agreed. He's such an amazing person to work with. He gelled nicely with the whole team. It felt like I was working with a friend. We have shot things in the outskirts of Jaipur. It was very beautiful," adds Balraj.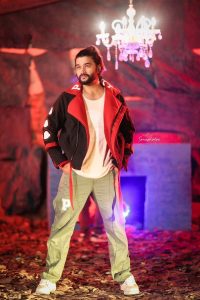 The USP of the song, according to him, is that it is soulful and is expressive enough to impress music lovers. "Also the best part is that it is written by me and sung by my wife. The song has a concept which is very cute. The love story from the start to infinity is shown for three generations. It is shot by Baljinder Mohar. He has done incredible work," he says.
The actor-comedian Balraj Syal has been seen in reality shows such as Mujhse Shaadi Karoge and Smart Jodi.