Let's have a happy start to the New Year, a special New Year gift from Jio Studios, "Baipan Bhari Deva", a super story of superwomen, directed by Kedar Shinde will release on 6th January 2023!
Now let's start the New Year with joy, mother, grandmother, wife, sister, mother-in-law, aunt…This movie is dedicated to all these dear friends.
After the announcement of two Marathi films 'Ghe Double' and 'Godavari', Jio Studios has announced its third consecutive Marathi film, 'Baipan Bhari Deva'. The release date has been announced.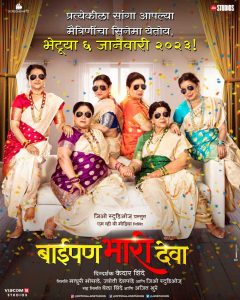 Directed by Kedar Shinde, the film will be released in the coming New Year, on January 6, 2023. The film is produced by Madhuri Bhosale of MVB Media and co-produced by Bela Shinde and Ajit Bhure. And the important attraction is that in this film stars six great actors like Rohini Hattangadi, Vandana Gupte, Sukanya Kulkarni, Deepa Parab, Shilpa Navalkar and Suchitra Bandekar. This is the story of six sisters who are separated from each other due to some reasons and also face family, personal and financial problems.
Talking about the concept of the film, director Kedar Shinde says, "We all have women in our daily lives who play such important roles, but we unknowingly we ignore them. The film 'Baipan Bhari Deva' is dedicated to such women. Everyone will surely like this story of these six sisters. And I am sure that the New Year will start on a bright and happy note."
Presented by Jio Studios, produced by Madhuri Bhosle and directed by Kedar Shinde, 'Baipan Bhari Deva' will hit the theaters on January 6, 2023 in the upcoming New Year.
Kedar Shinde has directed Marathi films like Rangeela Rayabaa, Aga Bai Arechyaa 2m Shrimant Damodar Pant, Kho Kho, On Duty 24 Taas, Irada Pakka and Bakula Namdev Ghotale. He has also directed Marathi, Gujarati, Hindi and English plays. Shinde directed 2010 Bollywood movie Toh Baat Pakki.