The much-awaited trailer for Shubh Nikah is finally out. Directed by Arshad Siddiqui, the forthcoming flick stars Aksha Pardasany, Rohit Vikkram & Arsh Sandhu.
During the recent trailer launch event, not only the star cast but many other celebrities like Sharad Malhotra graced the event. Meanwhile, Aksha shared her thoughts on the film & the character "Zoya is a young, strong-minded independent girl with the right values in place. She's level-headed and she can fight with anyone if she thinks she is fighting for the right reasons. She's brave and strong but also sensitive and emotional at the same time. Very similar to who I am in real life," She added.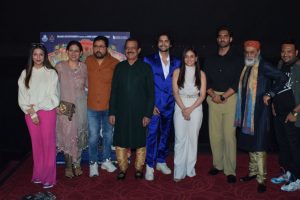 Shubh Nikah is a very unique story of cross-cultural marriage. Zoya is a beautiful girl who is educated and sees a bright future ahead belonging to a conservative Muslim family. Munna Lal Aspiring good-looking boy who is full of life and also belongs to a conservative Hindu family. Sabir Khan is a desi Muslim boy who is in love with Zoya and is also a family favourite. It's exciting to see where this love triangle heads to. The trailer portrays beautiful shots which have been taken in Uttarakhand.
The makers of the movie took to social media on Valentine's day to share a soothing & romantic song from the film titled Mann Banwra which has been out on Youtube. At the same time, it has been there as people's choice on other music apps.
The Arshad Siddiqui directorial is backed by Bhupender Singh Sandhu & Arpit Garg. Co-Producers are Satpal Singh Sandhu, and Mrs. Gurmeet Kaur Sandhu, and Associate Producers are Laxmi Narain Pandey, Anubhav Dhir, and Ritesh Srivastava. The trailer has been out on Brandex's official youtube channel. Shubh Nikah is slated to have a theatrical release on March 17.