It's been a while since the colours in our lives have faded, thanks to the COVID19 pandemic which put a full-stop to most activities ever since March. However, things are gradually getting back to normal. Businesses are opening up, film shoots are resuming and people are looking forward to watching new movies again.
Amid all this, Yantra Pictures and director Prakash Kunte are all set to add a dash of colour to your lives with the upcoming Marathi film Colorphool.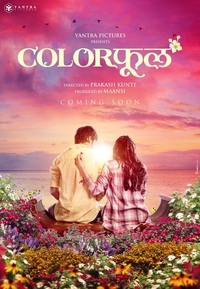 Prakash, who is known for films like Coffee Aani Barach Kahi, & Jara Hatke, Hampi and Cycle, has always been a name to be associated with films that are high on content and about beautiful stories. With Colorphool, he is set to take that journey ahead. And giving him company this time is another name known for backing content-driven projects, including short films and documentaries- Maansi.
Maansi has come on board as the producer for this film and it marks her foray into Marathi cinema. The reason behind her opting to back a Marathi film is the richness of stories and presentation in the industry.
But who are the actors in Colorphool? What will the film be about? When will it release?
All the answers to these questions will come in due time. Rest assured, this is one film that the audience should look forward to. Till then, let the poster add some colour to the festivities!