Every corner of the country has been grooving on 'Main Sharabi' that crossed 350+ million views on the YouTube channel of Apeksha Films & Music ever since its release in December last year. While the success of the song continues, audiences have been demanding the company for yet another song on the same theme. Hence, on public demand, Apeksha Films & Music brings yet another vibrant song, 'Udan Choo Daru' that will set the party mood of listeners.
'Udan Choo Daru' is a qawwali based song that features Arvinder Singh, Navya Singh, Heena Harwani and Muskan Khatra. The song has been written by Pradeep Sahil and is composed by Arvinder Singh himself.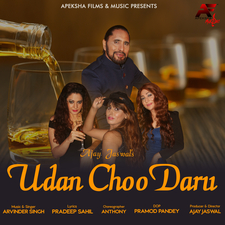 Talking about 'Udan Choo Daru', Ajay Jaswal of Apeksha Films and Music mentioned that after the release of 'Main Sharabi', he had people reaching out to him and his company through various mediums demanding another song on a similar theme. He says, "'Main Sharabi' was an instant hit and has been trending ever since its release. Considering the response and demand from our audiences, we have yet another release that will surely not just take social media by storm but also complete the party list of music lovers. We look forward to an overwhelming response from our audiences."
Music composer and singer Arvinder Singh revealed that he enjoyed every bit of the making of 'Udan Choo Daru'. He mentions, "Times are tough, and things are not fine with so many people. In such situations, making songs that people enjoy is our intention. It was a super-duper experience with Apeksha Films & Music while working on this song. I am sure our listeners will enjoy the song as much as we enjoyed making it."
Featured artists in the song include renowned Tabla player Surinder Singh known for hit television shows such as Comedy Circus, Great Indian Laughter Challenge, and Movers And Shakers, as well as Dholak player Lokesh Ghandharv, Guitarist Iqbal Warsi, and Banjo player Abdul Rauf. The music video has been directed by Ajay Jaswal.
Music lovers can listen to the latest single by Apeksha Films & Music 'Udan Choo Daru' for free on the link below: