All the films that have been waiting for the release for the last several days are now on their way to release. One of these movies that are most talked about, is 'Anya'. The release date of 'Anya', which is adorned with the performances of Hindi artists as well as Marathi veterans and made in Marathi as well as Hindi, has also been announced. The film is set to release on June 10. This film won two awards, Best Film at the Elvisbenn Film Festival in Sweden, Best First Time Director, and Best Picture at the Falcon International Film Festival (June Edition 2021) in London. The film has received rave reviews at the Toronto Independent Festival and Global Indian International Film Festival.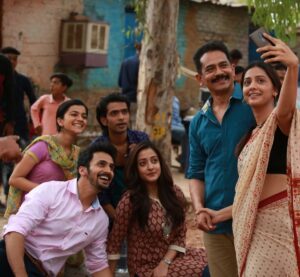 Producer Shelna K. And Simmi have co-produced 'Anya' with Capitalwood Pictures under the banner of Initiative Films. The film is directed by Simmi Joseph and has the potential to capture the attention of everyone by commenting on an important topic. Simmi is a well-known director in South Indian cinema. He has directed Marathi cinema for the first time through 'Anya'. In 'Anya', Simmi tries to shed light on the very important issue of human trafficking. Human trafficking is a scourge of humanity and a threat to society moving towards progress. If this threat is not eradicated in time, then it will not take long for society to deteriorate. A documentary has been used to present this subject effectively. Atul Kulkarni, who is currently busy playing a pivotal role in Hindi, is the main attraction of the film along with actors like Prathamesh Parab, Tejashree Pradhan, Bhushan Pradhan, Kritika Dev, Sunil Tawde, and others. Marathi actors accompanied by Hindi as well as Bengali cinema actors that left their marks on the heart of the audience, actors like Raima Sen, Yashpal Sharma, Govind Namdev, etc. will be seen in this movie. Therefore, the combination of a strong star cast and a rich story will be seen in 'Anya'.
Simmi has written the film along with directing and Mahendra Patil has written the dialogues. Cinematography is done by DOP Sajjan Kalathil. The film was made in two languages, the Hindi lyric composition is written by Dr. Sagar and Sajeev Sarathi, and the Marathi lyrics are by Prashant Jamdar. Along with composer Vipin Patwa, who is known for composing melodious compositions in Hindi cinema, Raam Nath, Rishi S., And Krishnaraj have composed the lyrics of 'Anya'. Background music is by Rohit Kulkarni. Nandu Achrekar, Robin, and Raju are the associate directors of the film, while Shekhar Ujjainwal has worked as the production designer. The costume design is by Nilam Shetye and the choreography is by Sabha Mayuri. Thanuj has compiled this film.