The profession of acting is like fine wine. It ages with time and allows creative artists to utilize their potential. Annu Kapoor, a Bollywood veteran has proved his prowess as a phenomenal actor by portraying impactful roles on screen. Known for his performances in films like 'Darr', 'Vicky Donor' and 'Aitraaz', his list of performances have inspired thousands of actors in the industry.
Now the actor is set to showcase his versatility as Pandit Deendayal Upadhyay. The talented actor will start shooting for his upcoming film 'Main Deendayal Hun' soon. As per Indian history, Pandit Deendayal Upadhyay has played an instrumental role in the political arena. He was the one to spread the ideology of Hindutva nationalism in the 1940s.
Before walking in the shoes of the political leader, Annu Kapoor feels privileged to portray a character whose philosophy matches his thoughts. The actor says, "There are very few opportunities that actors get to portray a character they can relate to. I am glad to get such roles at this age."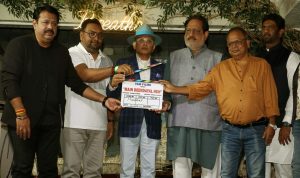 In the past, Annu Kapoor has played historical roles on the screen including Mahatma Gandhi in 'Sardar' and Veer Savarkar in 'Kaalapani'. While the actor considers the role of Pandit Deendayal Upadhyay challenging, he is sure to give his all to the film. "Acting is an art where a human has to become unreal to play a character that looks real. As an actor, I find it fascinating to perform such roles on screen", said the 66-year-old actor.
Furthermore, the veteran actor stated that he shall give his best shot and do justice to his role as Pandit Deendayal Upadhyay. Just like his past outings, we are sure that he will leave everyone impressed with his terrific performance. The shooting of the film is said to begin soon. Produced by Ranjeet Sharma under the banner TGM Films, 'Main Deendayal Hun' is co-produced by Hareesh Reddy Nagalamadaka, executive producer Rajeev Dhamija.
Ranjeet Sharma, the film's producer said, "I was inspired by Shri Indresh Kumar Ji (RSS) for this film. The youth will love watching the film, and I am sure that the masses will connect with the flick." Moreover, the film's story is written by Rashid Iqbal and directed by Pawan KK Nagpal. The film will extensively be shot in Uttar Pradesh. Let's wait to see how Annu Kapoor leaves the audience impressed with another power-packed performance.