Anil Singh who is all ready to make his name with power pike acting and directional skills has recently announced the first poster of the movie Mid Day meeal after receiving huge appreciation, Anil Singh has now released the first official poster of the movie with the entire star cast
Anil Singh just unveiled the poster for his upcoming movie Midday Meeal, which is hard to grasp but is highly amusing and generates a lot of questions in people's minds. However, the title of the movie makes it apparent, or perhaps it's because of the poster. Mid Day meal is something that we all used to enjoy in our school days and then making the movie out of it is a huge thing, For us as viewers to grasp what the movie is going to be about, the filmmakers have unveiled the first official poster for the film. The poster appears to be quite intriguing and enticing.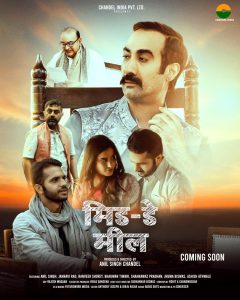 Anil Singh, an actor, and producer, shared the poster for his forthcoming new projects on social media. The poster features the actors Ranvir Shorey, Jahnavi Rao, Bhagwan Tiwari, and Shanawaz Pradhan as well as other members of the cast Ashish Athwale and Jhuma Biswas.
As Ranvir Shorey is seen on the poster seated on a chair and sporting an intense expression, which gives the impression that he is a powerful figure.
Anil Singh Chandel presents the official poster of his upcoming film 'Midday Meeal'
Anil Singh published the poster for the movie "Mid Day Meeal" and said, "I am very happy to disclose the poster and the star cast who seen along with the poster, I am very happy the movie look kind of very promising, the poster turned out very well, and I'm loving the response of the audience is responding to my poster."
The movie is presented by Chandel Films, the movie is helmed, and produced by Anil Singh Chandel, whereas the screenplay is given by Rohit A Chandwaskar.