International filmmaker Rahat Kazmi and his team bring us another beautiful feature film questioning the society titled as Angithee (Fire Pot)… A film which talks about a women and her desires in a conservative society….
Trailer: https://vimeo.com/366749270/1547cdceb9
The story of a neglected woman in a conservative society deprived for sexuality and basic desires finds her love outside her marriage and starts a journey of her self-discovery. The film is scheduled to start streaming from today onwards on Shemaroo Me app.
Web Link: <https://www.shemaroome.com/> https://www.shemaroome.com/
Ritu Rajput plays the central character of Firdous in the film; Tariq Khan has done a superb performance in the role of a traditional husband whereas Rahat Kazmi himself plays a character who breaks the boundaries in such a society… Kashmiri filmmaker and actor Hussain Khan plays the character of a Molvi (a muslim priest) and plays it with full heart…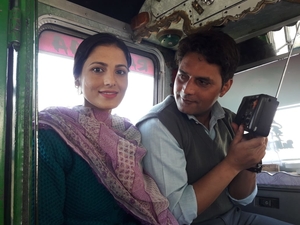 Firdous a newly married beautiful woman is hungry for romance in a society where even watching TV is like a crime at home. Her husband "Hameed" is nice to her but has no guts to stand in front of his conservative father. Hameed's old friend Shahid comes back from Punjab where he was a lobour contracter and has evolved a lot by travelling outside. Shahid and Firdous go close to each other and end up falling in love and living their desires together. Firdous has a different life whenever she is with Shahid, things change big time when Hameed gets to know about the act that his wife is sleeping with his friend…
PRODUCERS: RAHAT KAZMI, TARIQ KHAN, ZEBA SAJID
ASSOCIATE PRODUCER: VIKAS SANMOTRA
WRITING DEBUT OF : KRITIKA RAMPAL SHARMA
ACTING DEBUT: RITU RAJPUT/ KANTA
WRITTEN AND DIRECTED BY: RAHAT KAZMI
WORLDWIDE RELEASE ON SHEMAROOME from 9th April 2021