Amruta Arun Rao is one of the film makers who have successfully been able to prove that Cinema, plays, web series and TV serials can be used constructively in society. Her debut film as a producer – Manini proved to be her first way back in 2002 and ushered in her banner "Amruta Films". Her journey continued as a producer with films like 'Manini', 'Wadal Vara Sutla', 'Hambarda', 'Aarohi – Gosht Tighanchi', besides experimental unreleased films like 'Ha Mi Marathi' and 'Saanpseedi'. Amruta has now accepted yet another challenge to come up with a thought provoking and different film like 'Shyamchi Aai', with the young and experienced director Sujay Dahake, who will direct her black and white film 'Shyamchi Aai'.
Asked why she went ahead and made the film 'Shyamchi Aai' when Sujay Dahake suggested to her the plot in today's era of crime, sex and violence and what message does she strive to drive home through her film, Amruta says, "Today's young children are tomorrow's young new generation and a lot of parents tend to neglect their young children in pursuit of their own career. To educate the young new generation, there is an imperative need to have a film like 'Shyamchi Aai', which is a milestone for them. I decided to take the step of making a film like this because the books that we read, the lessons that we imbibe and the films that we see always leave a big impact in our impressionable minds. As Sujay is a director who is capable of tackling a sensitive film like this, he makes it a point to go through a lot of pains to undergo a thorough research on the subject. As the subject has the backdrop of Konkan, we plan to cast actors who belong to the region. We will zero in on a lot of new actors on the basis of auditions especially since we need to have characters with different realistic looks.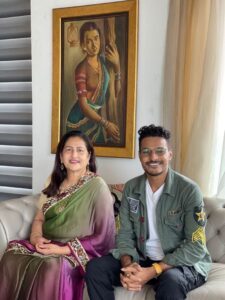 Amruta Arun Rao who is a M.SC., LLB has had the experience of reading news on Doordarshan for the 24 years. After having done her schooling in Kannada, when she came to Mumbai to pursue her studies for her seventh standard in her school she came to grasp Marathi as a language. Since she had a background of education in Science, she was absolutely not at all in touch with literature but started studying Marathi after she being selected for Doordarshan and read 'Shyamchi Aai' and also saw the film when it was released. When she was working as a newsreader, she was also practising law for four years and since she also served as a judge in some award functions, she is also aware of various arts. Besides film production, Amruta is also a Director in four chemical companies. Talking about 'Shyamchi Aai', Amruta says that she liked the book a lot. "Everyone tends to see one's own mother as Shyam's mother. In the earlier film, the mother had three children but Shyam was the most mischievous of the lot and it was quite difficult to teach him values of life and the mother was required to teach him differently. Though the film now is based on the book 'Shyamchi Aai', and the earlier film had no mention at all of Shyam's other brothers, an attempt has been made to focus on the various aspects in the life of Shyam".