It is not only the viewers who are smitten by Shemaroo Umang's new show Kyunkii Tum Hi Ho featuring Amar Upadhyay, who ruled everyone's heart and was a household name with his portrayal of Mihir in Kyunki Saas Bhi Kabhi Bahu Thi at the start of the century. The actors in the show shared a special bond amongst each other, Apara Mehta who played Amar's mother in the show and Ketaki Dave who played his aunt were excited about his new venture. With immense faith in Amar's capability, they both wished him on his new venture.
Actress Apara Mehta expressed, "'For Kyunki Saas Bhi Kabhi Bahu Thi' Amar and I received a lot of appreciation from the audience. Apart from being my on-screen son, we share a strong bond off-screen as well. I would like to congratulate Amar for starting his new journey as a producer with Kyunkii Tum Hi Ho on Shemaroo Umang and I am very excited about it. Amar is not only one of the finest actors but also an incredible person. I'm optimistic that he will soar par excellence as a producer. My heartiest congratulations and best wishes to Amar and the team!"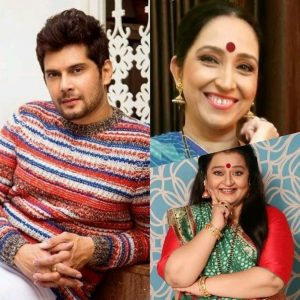 Ketaki Dave added, "It's been nearly 22 years since Kyunki Saas Bhi Kabhi Bahu Thi became a huge success, and Amar is still the perfectionist that he was. After proving his acting mettle and winning viewers' hearts, he is all set to become a successful producer with Shemaroo Umang's new show Kyunkii Tum Hi Ho. I would like to congratulate him on his new journey, and I'm sure that he will win hearts with his new role as well."
Amar Upadhyay is not only the lead on the show but is also co-producing it with Suhail Zaidi. The show hit the small screens on 12th December and has received overwhelming responses from all quarters. With a promising vibrant cast of Harsh Nagar and Priyanka Dhavale this new romantic drama has a riveting storyline. From the show's concept to the fresh cast to Amar donning the hat of the producer, Kyunkii Tum Hi Ho has caught everyone's attention for various reasons.
Shot in the serene city of Gwalior, Kyunkii Tum Hi Ho is a complicated yet feel-good love triangle that follows the life of Karan, Kavya and Ayushmann. The narrative revolves around Kavya, who finds her Sapno ka Saudagar in Karan, but situations take a dramatic turn when reality sets in. Filled with drama, emotions, and romance, Kyunkii Tum Hi Ho airs every Monday to Saturday only on Shemaroo Umang at 9 PM.