After the fascinating poster and teaser releases, ALTBalaji is gearing up to release its newest dramedy Helllo Jee with the trailer release that is out now. The excitement about the show is real. With the trailer, ALTBalaji announces the much-awaited show launch date being 1st February 2021.
The series has the gorgeous Nyra Banerjee, making her OTT platform debut, and several other seasoned actors. They are all incredibly driven individuals, as can be seen from their past performances and interviews, ensuring Helllo Jee will be a show to watch out for. Directed by Shahnawaz Sabir Khan, Helllo Jee features Nyra Banerjee, Mrinalini Tyagi, Akshaya Shetty, Kalyani Chaitanya, Dipali Sharma, Nitin Rao, Rahul Verma, Ansh Bagri, and Dheerendra K. Gautam. The series is full of humour, chaos, a story of 'Womance', and smart dialogues delivered flawlessly by the actors.
Link: https://www.instagram.com/tv/CKTxlQvDc5G/?igshid=68i8cw4kkyp2
"I am so excited to be a part of this show, which was all about hard work and talent for us and no unnecessary gimmicks. It has a brand new theme and story, unlike what the country and OTT platforms are used to. It brings me great joy to deliver such a strong character 'Angelina' to the audience. I hope everyone is as excited as we are," Nyra Banerjee, Lead Actress, Helllo Jee.
The character 'Angelina' who is the protagonist is a driven young woman with big dreams and a sordid past. The rest of the people involved are also from similar backgrounds who want to make something of themselves and join hands to turn their dreams into reality, as seen in the trailer.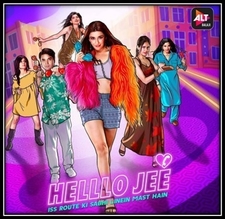 The trailer can be watched on all of ALTBalaji's social media pages, so make sure you follow them. The trailer will enlighten you with further twists and turns in the story and prepare you well in advance for a series you can't afford to miss.
The pre teaser had the beautiful Sunny Leone make an appearance along with lead actress Nyra Banerjee while the teaser featured the entire cast. ALTBalaji has been going all out in ensuring their audience has the freshest content possible, especially during this era of binge-watching. So make sure you do not miss this one.
Helllo Jee will be streaming from 1st February 2021, only on ALTBalaji app! Stay tuned!