After two successful launches in April, ALTBalaji is ready with yet another entertainer. Titled Hai Taubba, this anthology is the latest addition to ALTBalaji's creative content. The makers launched the trailer earlier in the month and knowing the nature of the show, and they didn't want the audiences to keep waiting for it. From talking about male sexuality at 40 to tabooed love, ALTBalaji's Hai Taubba is a compilation of 4 mature adult stories, representing emotions symbolized by a distinct colour of love.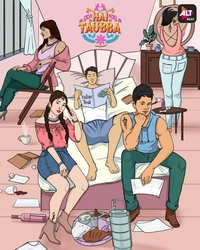 Not just the episodes but even the original sound track composed by Sneha Bose, Muskaan Tomar and Rinku Rajput is doing rounds even before its release. The four episodes are titled 1. Brown : the color of dark chocolate , 2. Yellow : yellow yellow, the dirty fellow ! 3. Green : the aunty's kitchen and 4. Black & white : the odd couple .. Each story deals with repressed guilt and social stigma. Love knows no boundaries, and it transcends age, gender, and everything in between. With 'Hai Taubba', the makers talk about how society reacts to the issues that we don't talk about but are deeply ingrained in our lives. Taking a cue from the infamous saying, "Kuch toh log kahenge, logo ka kaam hai kehna" which essentially means that people will have something or the other to say, no matter what.
The trailer was released on May 1 in which the makers gave us a glimpse of the four stories in the trailer. There's forbidden love, breaking of social boundaries, and all of it in just one trailer. Now isn't that 'take my money and gimme popcorns' worthy? The trailer looks like a buffet with all the dishes with a taste that will leave one wanting more. The makers have ticked all the boxes, right from breaking stereotypes to serving heart-warming stories. All they want is you is to watch these stories sans judgment. Sans the Hai Taubba!
Streaming Now Link:
While talking about the show, the actor Gagan Anand who has been part of shows like Kumkum Bhagya said, "Hai Taubba is a one-of-a-kind show. When I was approached for it, there was no question of whether I want to do it or not. The concept of a tabooed-love story shot completely in black and white was first of its kind on Indian ott. This story would directly bring the same sex love conversation to your dining tables and give it another perspective"
Tuhina Das, who acts in the episode titled brown : color of dark chocolate , while talking about the launch, said, "I'm so excited that the show has finally hit the tubes. Infidelity in relationships is the core theme in my story. The story has taken a bitter sweet take on this crucial subject using the metaphor of dark chocolate. Playing Mithila was a challenge given the nuanced nature of what she faces. It was a delight. The epsiode was shot in Kolkata and Rohan Ghose, the director is someone I have worked with before, has made it as earthy and as relatable as possible symbolised by the color 'brown '."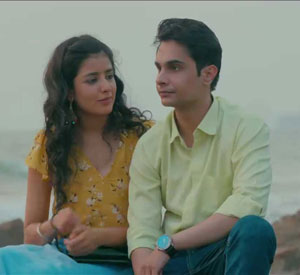 The show is conceptualized by ALTBalaji's creative director Baljit Singh Chaddha. The stories are written by renowned film writers like Purva Naresh (known for films Hasee Toh Phasee (2014), Krrish 3 (2013), and Dum Maaro Dum (2011)), Rohan Ghosh, (best known for Kaali 2), and Sunil Drego (popular for writing Noblemen and 24 Season 2). Baljit Singh Chaddha has penned several shows in the show for Alt BalajI. He has been credited for shows like His Storyy, Fixerr, and Paurashpur, to name a few.
Hai Taubba is a collection of stories which will come out in 2 chapters. Chapter one will go on air on 6th May and all these stores have a common emotion of love. There's love between two men, there's love between two females, and then there's also the adolescent love alongside a man who believes, "40s is the new 20s". Second chapter again has 4 stories which are currently on floor and the makers will announce the release date for chapter 2 soon. While they may be scandalizing for others, but one cannot deny that at the end of the day, love is love. And that is the spine of ALTBalaji's latest drama Hai Taubba.
The cast of chapter 1 stories includes promising faces like Gagan Anand, Sachin Khurana, Megha Mathur, Akshay Nab, Bhakti Maniar, and others.
Stream the show right away only on ALTBalaji