ALTBalaji and ZEE5's Who's Your Daddy? franchise created laughter ripples through their two successful seasons. Their second season starring Bhavin Bhanushali, Sameeksha Sud, and Anushka Sharma, had Bhavin's character Shooshan searching for his daddy. ALTBalaji's social media celebrates the show with a fun video showcasing celebrity doting dads who spill the beans on their learnings from their daddies and what would they like to pass on to their kids.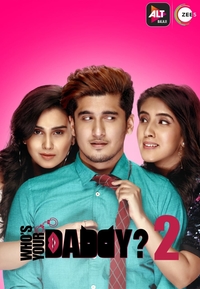 Visit ALTBalaji social media platforms to see what Rohit Bose Roy and Tusshar Kapoor had to say, along with Bhavin Bhanushali. They have rendered touching versions of their beliefs on parenthood. Tusshar and Rohit spoke about giving children enough time andx love. Children learn a lot from their parents and grow up quickly. All one can do is love and support their child and give them enough of their time so that the children know that their parents are available for them. The video ends with Bhavin wishing if his reel-father could also teach him life-lessons in the series.
Link: https://www.instagram.com/p/CKlyPH1KiPD/
The series is about a small-town orphan, Shooshan, working overtime to support himself while searching for his birth parents. If you haven't watched the series yet, watch it already. The unlikely situations and relationships he encounters on his quest to find his birth father makes it a very chaotic and hilarious series.
Guaranteed laughter from the beginning to the end, the show will entertain you like you wouldn't believe. The 1st season was so well received that there just had to be a season 2. Directed by Chirag Arora, the series has brought with it a lot of hope and enthusiasm. The other cast members include Vidya Malavade, Mamik Singh, Deepika Khanna, and so many more.
Turn on your notifications for all the updates from ALTBalaji social media pages for more such entertaining content!