In Marathi, movies of different styles are being made on different topics. A Marathi film with the title 'Masuta', which is a unique story, will be coming to the audience very soon. The film 'Masuta', directed by Ajit Devle fits the definition of a socially entertaining film, is going to release on 24 February 2023 across Maharashtra. Through this film, a different story will come before the Marathi fans.
Kashibai Films Production and Saisagar Productions, 'Masuta' is produced by Bharat More and Manesh Lodha. Ajit Devle and Sunil Shinde are the associate producers of the film. Ajit Devle himself has directed and edited 'Masuta'. The movie 'Masuta' is a unique story of struggle. In this you will see a mind-blowing story of a certain class of the society. Various social messages have also been given through this film. Director Ajit Devle has made it all interesting with his unique style of direction. This film has so far made its mark in many film festivals in the country and abroad.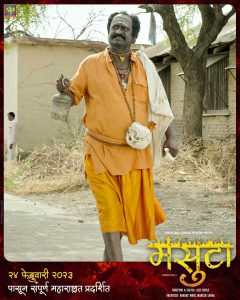 Director Devle said that, though 'Masuta' is a story of family belonging to a certain class, it is a thoroughly entertaining film. Quality production, relevant lyrics and melodious musical touch are added to it. Leading actors who work in Marathi as well as Hindi and other artists have given excellent performances. The biggest strength of this film is the impactful screenplay throughout the movie. Director Devle said that he is sure that the film, which was shot on realistic locations, will give a realistic experience to the audience. Bharat More, who wrote the screenplay, said that while writing the actual script, he went to many graveyards and learned the story of the Mhasanjogi family from their own point of view. In this modern world, a brave attempt has been made through writing to tell the society, the amount of suffering that the Mhasanjogi community has to endure due to their traditional occupation. He stated that the audience will definitely get a unique experience of entertainment as they will convey the message of body donation to the whole world through the very interesting plot of the film.
Bharat More has written the screenplay of 'Masuta', while Anil Raut has written the dialogues. Actors like Anant Jog, Nagesh Bhosale, Hridaynath Rane, Riyaz Mulani, Archana Mahadev, Vaishali Kendale, Kanchan Pagare, Yash More are in this movie. Lyrics and Music are by Avinash Patil and Sunil Mhatre. Adarsh Shinde, Aboli Girhe, Avinash Patil have sung in this film and the costume design has been done by Chaitrali Dongre. DOP Dilshad V. A. has done the cinematography and Background music is given by Pinaki Roy. Box Hit Movies will handle the distribution of this film.