In these challenging times, evergreen music of the 80's is like the medicine of the mind & Apeksha Films and Music creates euphoria with a new lively romantic song "SUNO APNE DIL KI" composed by Dj Sheizwood and Sung by Kumar Sanu.
The eternally enduring music of the 80's gives a life & soul to everything & Apeksha Music's forte lies in presenting timeless everlasting excellent mix of meaningfully expressive and melodious super hits that has inspired as many audiences as much as it has entertained.
Says Ajay Jaswal, Producer of the song, "Suno Apne Dil Ki is our conscious effort to bring back the lost orchestral symphonic era of the 80s back with who better than the King of Romance & lyrical music – Meastro Kumar Sanu."
Musically Passionate & Producer of the song, Ajay Jaswal maintains that every-time APEKSHA Music releases any musical composition under its banner, you can expect euphoniously unfading & eternally entertaining music. Says Ajay Jaswal, "We are very selective about picking up the right content because immortal classics need to be curated with time & talent & our promise to provide uncompromisingly amaranthine experience every time remains paramount to our audiences. Apeksha Films & Music will always over deliver on the expectations of its loyal audiences & on its commitment to produce first-rated excellent content."
Song out now – https://youtu.be/m1Q75XdHOr8
With a sensually earthy & beautiful post monsoon season setting in, this eye-catching composition "SUNO APNE DIL KI" is a perfect song to enjoy with a hot cup of latte in this stimulatingly mushy weather.
Kumar Sanu's epicurean voice with an excitingly refreshing composition will touch melt your heart and get you addicted to the song. Composer DJ Sheizwood's ingenuity & brilliance is reflected in the masterly crafted lyrics and music & is a constant reminder of his creative unparalleled deftness & skillfulness.
Ajay Jaswal says further, "Romance is synonym to Kumar Sanu ji's voice. All of us must have fallen in love at least once in our lives listening & growing up with Kumar Sanu ji's songs & with SUNO APNE DIL KI, let's fall in love all over again in life."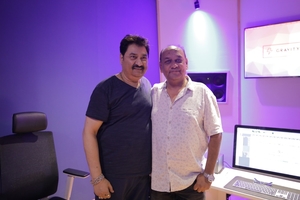 Iconic maestro Kumar Sanu says, "Music is what feelings sound like & to sing a meaningfully melodious composition like SUNO APNE DIL KI is a rarity. I truly appreciate the efforts Ajay Jaswal & his entire team at Apeksha Music which has been creating not just good melodies but also soul stirring enduring music for the evolved audiences of today. Working with highly revered and my favourite Music Composer DJ Sheizwood was yet another creatively relishing experience & more interesting than any of my songs ever before as we recorded this incredible composition during the lockdown & despite issues related to social distancing, restricted movement, logistics etc, thanks to ingenuity of DJ Sheizwood & the entire team of APEKSHA Films lead by Ajay Jaswal, it was a completely new technology led approach without missing out on the emotional & personal touch being lent to the composition. Despite zero physical contact & entire process of recording this marvelous song being executed through virtual & digital technologies involving Video Conferencing etc., it turned out to be unbelievably smooth sailing & more than a satisfying experience."
DJ Sheizwood says, "Romance is the essence of life. It is one emotion that can bring happiness and passion to everyone's life. People should give themselves a break from stress so that they can listen to Apne Dil Ki."