Content that conveys a message through entertainment has always been a feature of Marathi cinema. On the strength of this feature, Marathi cinema, which is appreciated all over the world, always tries to attract the audience by doing new experiments. A meaningful story will also be seen in the upcoming Marathi movie 'Aashray', which is commenting on the current social situation. The stunning trailer of the film 'Aashray' which has just recently been launched, is an absolute eye-catcher and is gaining popularity among the fans.
Trailer Link
https://glamgold.com/2022/03/02/exciting-satrangi-holi-song-from-the-movie-aashray/
Presented by Sankalp Motion Films, 'Aashray' is produced by Abhishek Sanjay Phade. Ramesh Popat Nanavare and Santosh Sahebrao Kapase directed 'Aashray', extended a helping hand to Maher, a social organization in Pune, a few days ago. When you see the stunning trailer for 'Aashray', you can see that it really represents the plot of the film. The stunning trailer of the movie which was made without revealing the secret of the original subject is being appreciated everywhere. In this trailer, the divine power called mother is mentioned and that everyone's dreams will come to reality someday. The couple also has a romantic story of a hero-heroine struggling to make their dreams come true and create their own identity. It also has a Holi festival song. Director Ramesh Nanavare and Santosh Kapase have expressed the view that 'Aashray' is not just a film, it is an idea. He said that the story of this film will happen anywhere in society. There is no limitation of place for this story. This is an idea that needs to be rooted in society. We have tried to present it through the film 'Aashray'. The theme of this film and the events in it are related to everyone. In any case, the film manages to entertain as well as educate. The whole team has worked hard for this and has tried to make a quality movie in very adverse conditions.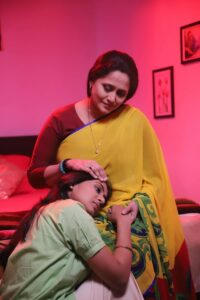 Abhishek Sanjay Phade has written the story of 'Aashray' and Dixit Sarvade has written the script and dialogues. Shweta Pagar and Amey Barve are the new couple in the lead roles in the film. Apart from this, actors like Nishigandha Wad, Sunil Godbole, Deepali Kulkarni will also be seen in important roles. The songs written by Aarti Abhishek Phade have been set to music by composer Vishal Borulkar. Anand Shinde, Rishikesh Ranade and Aarti Phade have sung for the film. Ajinkya Jain has provided background music. DOP Raju Deshmukh and Prathamesh Shirke have done the cinematography and Pradeep Panchal has done the compilation. VFX and DI Jayesh Malkapure, Production Controller Vinayak Dherenge and costumes by Amrita Sawant Patil.