Jaydeep Film Production's A FAKT TUCH, staring Chinmay Udgirkar and Suruchi Adarkar, muhurt was held recently. The teaser poster was unveiled with the tagline "Kaaran Apala Naat Vegle Aahe.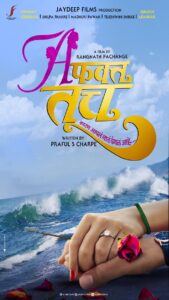 The film A FAKT TUCH is produced and directed by Rangnath Baban Pachange. The story is written by the director himself, screenplay and dialogues by Praful S. Charpe, cinematography by Ranjit Mane, art direction by Sagar Gaikwad, costumes by Priyanka Dube and make-up by Sameer Kadam. Raju Bhosale is creative producer and Mangesh Bhimraj Jondhale is executive producer.
A FAKT TUCH stars Chinmay Udgirkar and Suruchi Adarkar in lead along with Madhuri Pawar, Shilpa Thakre, Tejeshwini Shirke, Rishikesh Wamburkar and Geet Nikharge.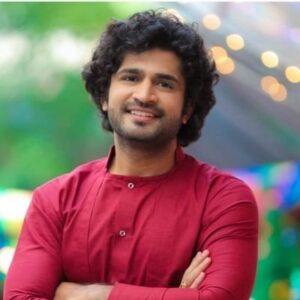 Chinmay Udgirkar debuted with a reality show called Maharashtracha Superstar in 2009-2010. He was ranked twenty-fifth in The Times of India's Top 30 Most Desirable Men of Maharashtra in 2019. After debut he got role in the Marathi serial Swapnanchya Palikadle on Star Pravah in 2010. He played a character of Shreyas Patkar in that serial. Chinmay also hosted the reality show called Maharashtracha Dancing Superstar Chote Masters (2013). He also played a role in another serial named Nanda Saukhya Bhare (2016) on Zee Marathi.
He made his debut in Marathi film industry with movie Shyamche Vadil in 2012 and then in Vaajlaach Pahije. He also performed in the theatre. He acted for few plays like Rim Jhim Rim Jhim, Elkunchwar etc. He acted in Colors Marathi's Ghadge & Suun (2017). He played a lead character of Akshay Ghadge. He married to his co-actor of Vaajlaach Pahije Girija Joshi on 27 November 2015.
Suruchi Adarkar began acting in 2007, when she acted in the commercial play Avagha Rang Ekchi Zhala, produced by Prabhakar Panshikar. Since then, she has acted in Ka Re Durava, Chala Hawa Yeu Dya : Ladies Jindabad & Avaghachi Sansar (Zee Marathi), Aapala Bua Asa Aahe (ETV Marathi), Olakh (Star Pravah), Ek Taas Bhutacha (Fakt Marathi), Anjali & Ek Ghar Mantarlela (Zee Yuva) and Pehchaan (DD1 Channel).